PubMed: Create an Account
Created by Mike Strahan
06/16/2014
It is highly recommended that researchers create an account in PubMed (MEDLINE).
Advantages include:
Save searches & automatic e-mail alerts
Display format preferences
My Bibliography & NIH public access policy compliance
SciENcv: a researcher biosketch profile service
Highlighting search terms
Recent activity searches & records for 6 months
---
2. Next, click on the Sign in to NCBI link as appears below:

3. You may Sign in using either your Google login, or Click on the Register for an NCBI account link: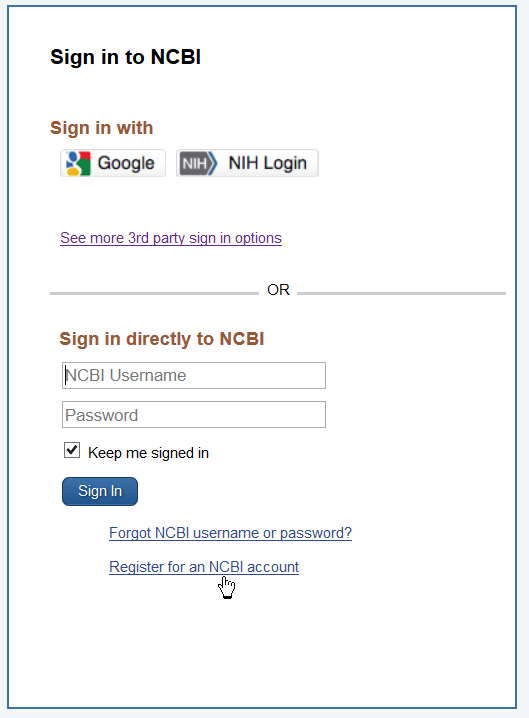 If you chose Google, it will ask you to verify your login. The system will then return you to a starting point.
If you chose to Register for an NCBI account, the screen below will appear. Note that character verification will be different than below. Please enter information & click the Create Account button.

After you Create an account, you will receive an e-mail with the subject:
Activate your new NCBI account
Click on the link inside the message to activate your NCBI account.
---
Now every time you access PubMed, please remember to login. You know you are logged in when in the upper-right corner, you see your login followed by the image below: